by Master Sgt. Todd Wivell, 62nd Airlift Wing Public Affairs
Complete/Original Article
10/31/2014 - JOINT BASE LEWIS-MCCHORD, Wash. -- "I tear up at the thought of how many children's holidays will be magical due to the sheer generosity of military members and the community," said Erin Griffin, 62nd Airlift Wing representative for the Joint Base Lewis-McChord led Santa's Castle program. "This is an amazing program that directly benefits our service members and makes the holidays brighter for them."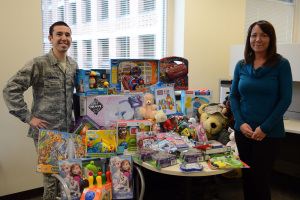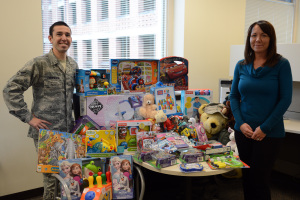 That generosity was displayed when two Team McChord members from the 627th Logistics Readiness Squadron decided to run a toy drive from October 17-30 in the customer service mall of the McChord Field headquarters building in support of this program.
Stacey Crumpton, 627th LRS chief of personal property and passenger travel and Senior Airman Robert Liversedge, 627th LRS passenger travel agent decided to set up a box outside of their duty section and put the word out that they would be collecting toys in support of the Santa's Castle program.
Within just two short weeks, the duo collected more than 60 brand new toys that were donated to the JBLM program. They had hoped to collect at least 50 toys and were excited when they saw how many there were able to collect.
"We did this to provide assistance to families who need extra help during the holidays with gifts for their children," said Crumpton. "To us being able to donate one toy would have been a success.
"The reason this program is so important is it gives back to the troops on JBLM and it is important to be able to provide to families who need the support and to boost their morale during the holidays."
Recognizing the fact that the Santa's Castle program cannot make it without the efforts of Crumpton and Liversedge and other volunteers, Griffin had this to say.
"We are very grateful for Stacey's and Robert's initiative to start this toy drive and hopefully this will encourage other squadrons to do the same in the future. It is a great way to remember the true meaning of the holidays.
"It would not be possible to reach all the families that need the support of Santa's Castle without all of the wonderful volunteers and donations that support this organization. It is a great way to give back to our own who sacrifice so much each and every day."
The goal of the Santa's Castle program is to provide as many gifts as possible to the military families and children in need during this upcoming holiday season.
"This was our first year doing this [toy drive]and because of what we were able to collect in a short amount of time and the sense of satisfaction it gave us, we plan on doing this again for years to come," said Crumpton. "We would like to let everyone know how important it is to donate if you have the means and capability to do so, especially when you know it goes back to the community they live and work in."
For more information or to donate toys to the Santa's Castle program, visit www.jblmsantascastle.org.