Santa's Castle is located at 2094 Bitar Ave on main post JBLM.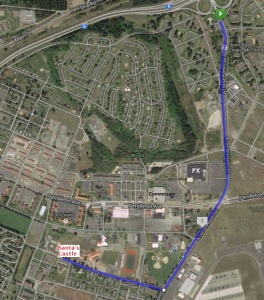 Directions:
From the main gate (exit 120 off I-5), come down 41st Division Dr.
Pass thru 3 traffic lights (Colorado Ave, Nevada Ave and Pendleton Ave).
Continue down 41st Division Dr.
Pass Liggett Ave.
Turn right on Bitar Ave.
Go through 1 stop sign at S 12th St.
Immediately after the next stop sign, on S. 8th St, turn right into the driveway of Santa's Castle.
If you get to the stop sign at S. Division St, you have gone too far.
**Our building is a brown building. The windows have red trim. There is a door on the front, westernmost corner that is painted solid red. We have a red and white w/ green striped front door and red and white with green striped poles in front of our building.**
We look forward to your visit!